So you've been taking a lot of photos and you've had them printed and you have no idea what to do with them now?  Here are some great photo organization tools that you can get from The Container Store or your local super store.  They will help you keep your photos in good condition and organized so that you can find what you want, when you want it.
While you CAN use any old shoe box for photos, they won't be protected properly. Use a plastic box like this one to keep out dust, water and dirt.  I love this one and you can find it here at Brylane Home.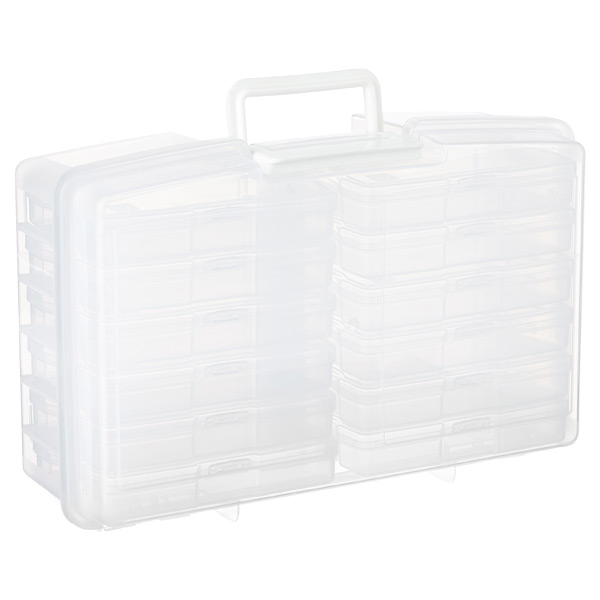 I like this box because you can easily affix a label to the outside and stack multiple boxes.
Remember to keep your photos in a space that's comfortable enough for you to live in. That means the basement, attic or garage are not good options. The extreme temperature differences in these spaces can ruin photos.
When selecting an album make sure you can easily insert photos as well as take them out quickly if need be. I like this album because it offers acid free pages as well as a plastic protection sheet so your photos are a bit safer when being viewed. Finally, the spines on these are easily labeled.

If you want to carry some photos with you or simply set a small amount aside for an upcoming project, this little carrying case is perfect.  Wayfair.com sells these separately or in packs of 10.


I love using these to take to and from family member's houses and to store duplicates I can give away.  If you have older items that you want to protect but still be able to view, use archival bags such as this one:
Remember, no matter how you store your photos in your home or office it's best to have a digital back up of them AND to keep a backup off site at a family member's house or in a safety deposit box.
Personally, I think one of the best ways to organize photos is to get them out of boxes, off the memory cards, and get them on the wall!  I love having photos printed on creative materials so you can honor them and display them.  Photos represent some of the best times in our lives, why not look at them every day?
One of the services I like to use is Picture Bungalow.  They offer photo printing of your high res images on canvas, acrylic, metal and wood.  These are creative and stunning.  Give them as gifts or decorate your own home with them.  However, you'll find yourself getting more and more creative and finding spots for your new found artwork.  I especially love the cluster variety.  One photos is divided up into many canvases, (or wood pieces and so on).  This looks like you spent a LOT of money on it, but it's affordable, contemporary and so much fun.  Check out everything that have to offer on their website.