Everyone has an area of their home dedicated to tea and or coffee.  Since it's an integral part of most people's mornings, it's a great genre to organize.  Once you do this you'll be able to make coffee quicker and get out the door faster in the morning.
If you don't have a large space to store your coffee/tea supplies, I suggest using a basket like tray that allows you to take everything out easily, use it and then tuck it away.  I love this one as it's inexpensive, fits into a lot of decor and is easily cleanable.
First I want to show you what I've done in my own home.  I have a small fridge in my office area and this is where I keep my coffee and tea set up. That way, I can access it throughout the day as I want.
I used a tray to keep everything together and then I added my french press and on the side (off the tray) an electric kettle.  I have mugs, and of course, lots of tea tins. I get mine at David's Tea.  I have some mugs that hold paper straws (for drinks from the fridge) and agave sticks and a spoon to stir.  I have everything I need to quickly and easily make coffee or tea during the day.
On the side of the fridge, I added this adorable and super useful magnets from Three By Three.  I hung a tea towel there for quick clean ups.  I also use another one for a bottle opener.  They are also great to post things that need attention, like to do lists and photos.  These are just awesome little multi taskers.  AND they come in lots of colors, are affordable and can be used in other areas of your home (jewelry, scarves, dog leashes, etc).
If you use a Keurig user, organizing all of those little pods can be a challenge. Use an organizer like this one to coral them. That also helps you remember what you have on hand.
Ground coffee can be kept fresh in a pretty container like this one. It looks cute on your counter and the scoop helps you measure.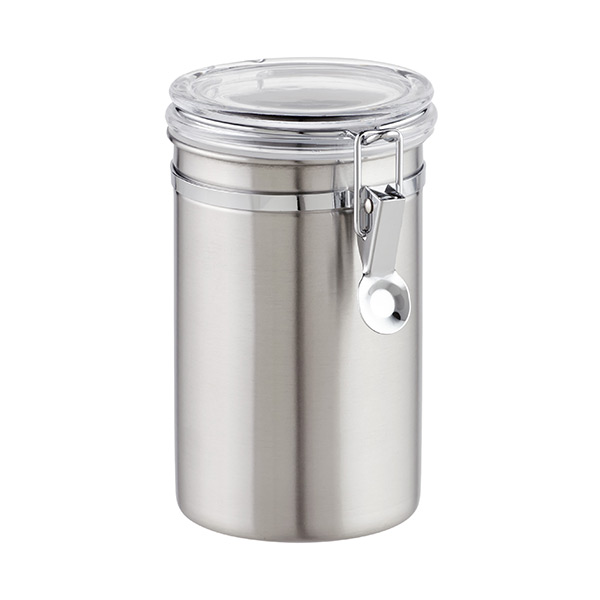 Use hooks on your back splash under your cabinets to store your mugs. I love these.  They are inexpensive and easy to use.
For the tea lover, a box that displays and holds all of their different types of tea is a great option. I love this because I can choose something different every day and everything is kept dust free.
If you're a tea drinker you know all about tea bags being an organizational challenge.  It's not easy to see your entire inventory at once and it's not easy to store tea bags in a way that doesn't require a drawerful of tea bags and the boxes they come in. I've seen lots of systems over time; some require you to stack tea bags, others don't allow you to easily access them, and some take up a large area in your kitchen.
I was lucky enough to try out the You Copia Tea Stand after seeing it on Pinterest.  It's an amazing and NEW way to store tea bags.  As its name suggests, it's a small stand that takes up a very small footprint on your counter.  It has 12 compartments to hold over 100 tea bags.  The compartments are large enough and easy to access so you don't need to jam your tea bags into them.  They can be easily added and used.  The tea stand is double sided too!
You can even remove the cups and put them in the dishwasher.  The tea stand is 10.8″D x 4.9″W x 8.6″H   and will fit into almost any kitchen cabinet!  Take a look at the Tea Stand here.